How to Receive a Copy of This Book:
If you are an admissions dean, director, officer or researcher, you can pick up a free electronic copy of this book using your name and institution email address. Alternatively the paperback and Kindle copies of this book are available on Amazon. Use the buttons above to gain instant access now.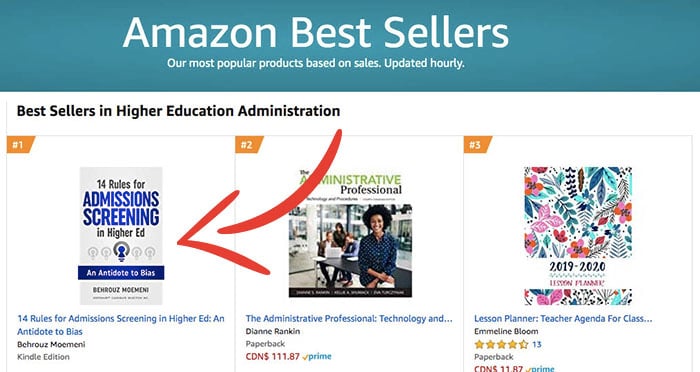 Overview of What's Included in This Book:
Foreword
Is it possible to create an admissions screening process that allows any educational institution to select top-performing applicants and simultaneously promote diversity? Is it possible to choose applicants genuinely motivated in the pursuit of a profession rather than those primarily focused on acquiring wealth or status? Is it possible to achieve all of the above, being fair to all applicants and reducing the time and cost of the admissions screening process?
These were the questions plaguing me in 2013. Since then, a lot has changed; I am now confident that the overarching answer is a resounding "yes!"
In this book, I will share the required steps to achieve all of the above considerations for your own admissions screening process.
If you are an admissions dean, director, officer, administrator, or researcher, this is the perfect book for both you and your team. If you are anyone interested to learn more about admissions screening in higher education, you are also going to enjoy this book.
I recommend that you read this book in the order it is presented because each chapter builds on the information provided by the preceding ones. The book is concise and easy to read with no fluff. I bet you can finish it from cover to cover in an afternoon.
I hope you enjoy this book as much as I enjoyed writing it for you. If you do, feel free to share it with others who may also benefit.
Lastly, I invite you to connect with me on my website (behrouzmoemeni.com) to share your valuable thoughts and comments.
Behrouz Moemeni
About the Author
Behrouz Moemeni is the founder and CEO at SortSmart® Candidate Selection (sortsmart.com). A scientist by training with a PhD in Immunology from the University of Toronto, he is known for creating motivation-based admissions screening.
Dr. Moemeni is one of the most sought-after admissions screening experts. His scientific approach to applicant screening along with his admissions screening software are designed to help institutions select top-performing applicants while promoting diversity.
His motivation-based admissions screening strategy has appeared in Diverse Issues in Higher Education, University World News, CMAJ News, and Nature Jobs. He regularly presents thought-provoking presentations to an international audience including appearances at TEDx WLUBrantford, and Beyond Sciences Initiative. 
Chapter I: Introduction 1
A word of warning: I am not holding back - 5
What you will learn - 6
Why promoting diversity is essential, as proven by science - 8
Promoting diversity - 10
I take my own medicine - 12
Chapter II: Top 6 Admissions Screening Practices to Avoid - 15
#1. The problems with grades and standardized test scores - 15
Fundamental errors in selection based on grades and standardized test scores - 19
Test validity and correlation - 20
#2 The problems with personal statements and list of experiences - 23
#3. The problems with situational judgment tests - 24
#4. The problems with in-person interviews - 29
#5. The problems with letters of recommendation - 36
#6. The problems with using "rolling admissions" - 36
The consequences of continued use of outdated screening practices - 37
Chapter III: So What's a "Good" Admissions Screening Test? - 57
A Swiss Army knife with just 3 blades: How to remove complexity and focus on The Big Three - 59
Rule 1: Less is More: Screen Your Entire Pool of Applicants by Streamlining Your Admissions Process into a Single Step and Eliminating "Rolling Admissions" - 63
Rule 2: Select Intrinsically Motivated Applicants Who Are Willing to Pursue the Profession with Blood, Sweat, and Tears, Even If It Means to Simply Volunteer - 69
Sports - 72
Health care - 73
Work - 74
Education - 76
How to detect intrinsic motivation - 79
Designing questions that directly detect motivation: The stealth fun formula - 81
The stealth fun formula - 81
Poor questions: - 82
Excellent questions: - 83
Designing questions that indirectly detect motivation: The personal history formula - 85
Excellent questions: - 86
Why not stop at selection based on intrinsic motivation? - 88
Rule 3: Select Coachable Applicants - 91
How should one assess coachability during the admissions process? - 94
Sample coachability question to ask your applicants #1 - 94
Sample coachability question to ask your applicants #2 - 95
Sample coachability question to ask your applicants' referees #1 - 95
Sample coachability question to ask your applicants' referees #2 - 95
Rule 4: Make Sure Your Applicants Are Conscientious Because It is Not Possible to Steer a Parked Car - 97
How do you measure conscientiousness? - 100
I. Attention to detail - 100
II. Industriousness - 102
Sample question to ask referees - 103
Sample question for applicants - 103
III. Organization - 103
Sample question to ask referees - 104
Sample question to ask applicants - 104
IV. Reliability - 104
Sample question to ask referees - 105
Sample question to ask applicants - 105
V. Impulse control - 105
Sample question to ask referees - 106
Sample question to ask applicants - 106
What about other traits such as emotional intelligence, empathy, ethics, and so forth? - 106
Rule 5: Test the Applicants' Functional Ability - 109
How to test the functional ability of your applicants: - 110
Rule 6: Use a Timed Screening Process to Facilitate Genuine Responses - 113
Rule 7: Use a Numeric Scoring System - 117
How to design a robust numeric scoring scale. - 118
Rule 8: Utilize a Group of Independent Trained Evaluators to Increase the Reliability of Your Admissions Screening and Reduce Implicit Bias - 121
Rule 9: Use a Test with High Predictive Validity for Future Behaviors and Avoid the Trap of "Tests of Tests" - 127
Rule 10: Choose the Applicants' References Wisely - 131
Rule 11: Identify the "Back-Up" Seekers to Prevent Costly Turnovers - 135
Rule 12: Use a Test with Robust Security Features - 141
Rule 13: Design Questions That Select the Best While Promoting Diversity - 143
1: Avoid hypothetical questions. - 144
2: Avoid leading questions. - 144
3: Ask questions requiring a specific past example. - 145
4: Ask leading questions. - 146
5: Ask questions that allow you to assign a range of numeric scores. - 147
6: Catch bees with honey not vinegar. - 149
7: Mix it up. - 150
8: Build redundancy. - 151
9: Test, test, test and then repeat. - 151
Rule 14: Democratize the Admissions Process and Educational Institutions - 153
Chapter IV: How to Score Applicants' Responses - 159
Chapter V: Sample Questions and Answers - 161
Acknowledgments - 163
References - 165
About the author - 187